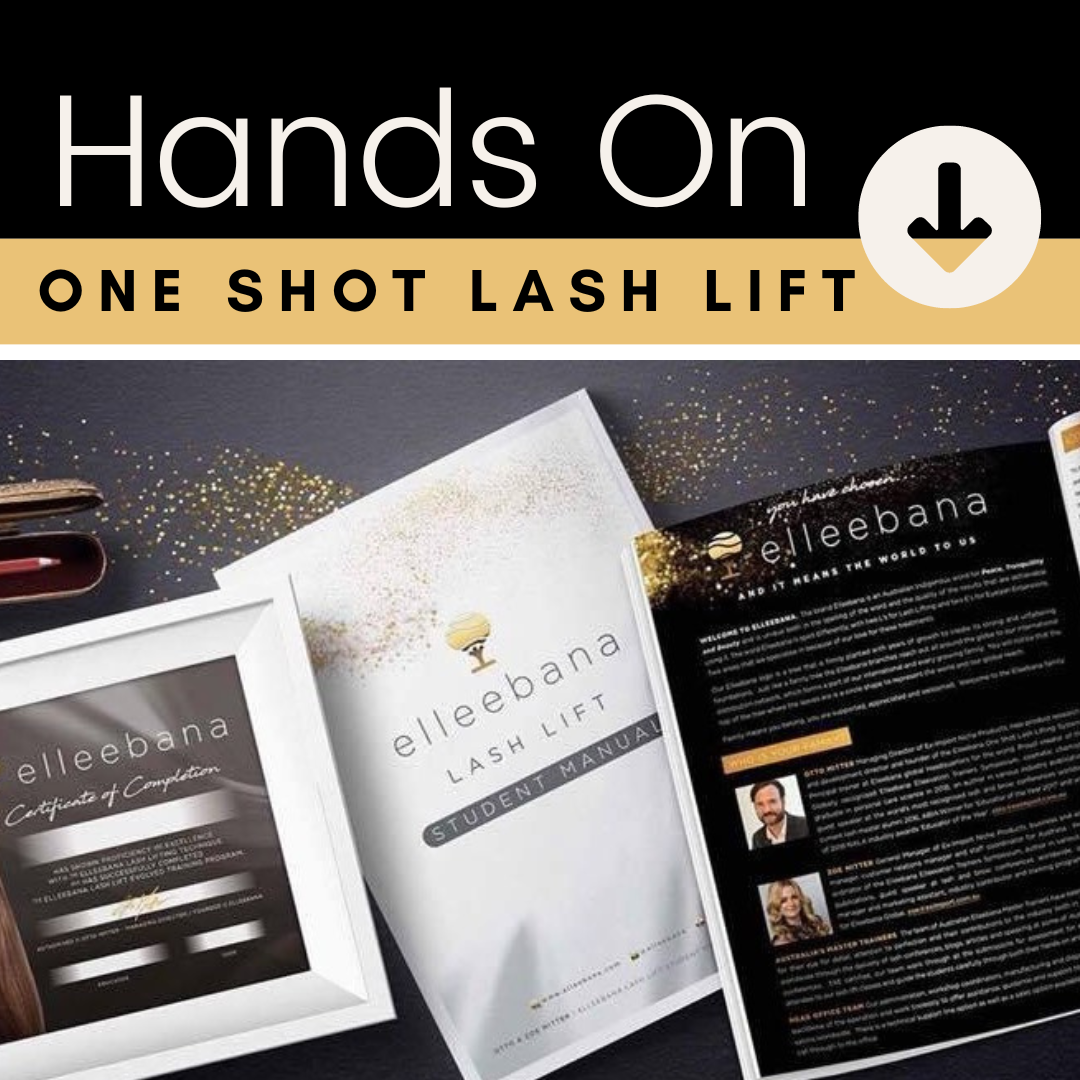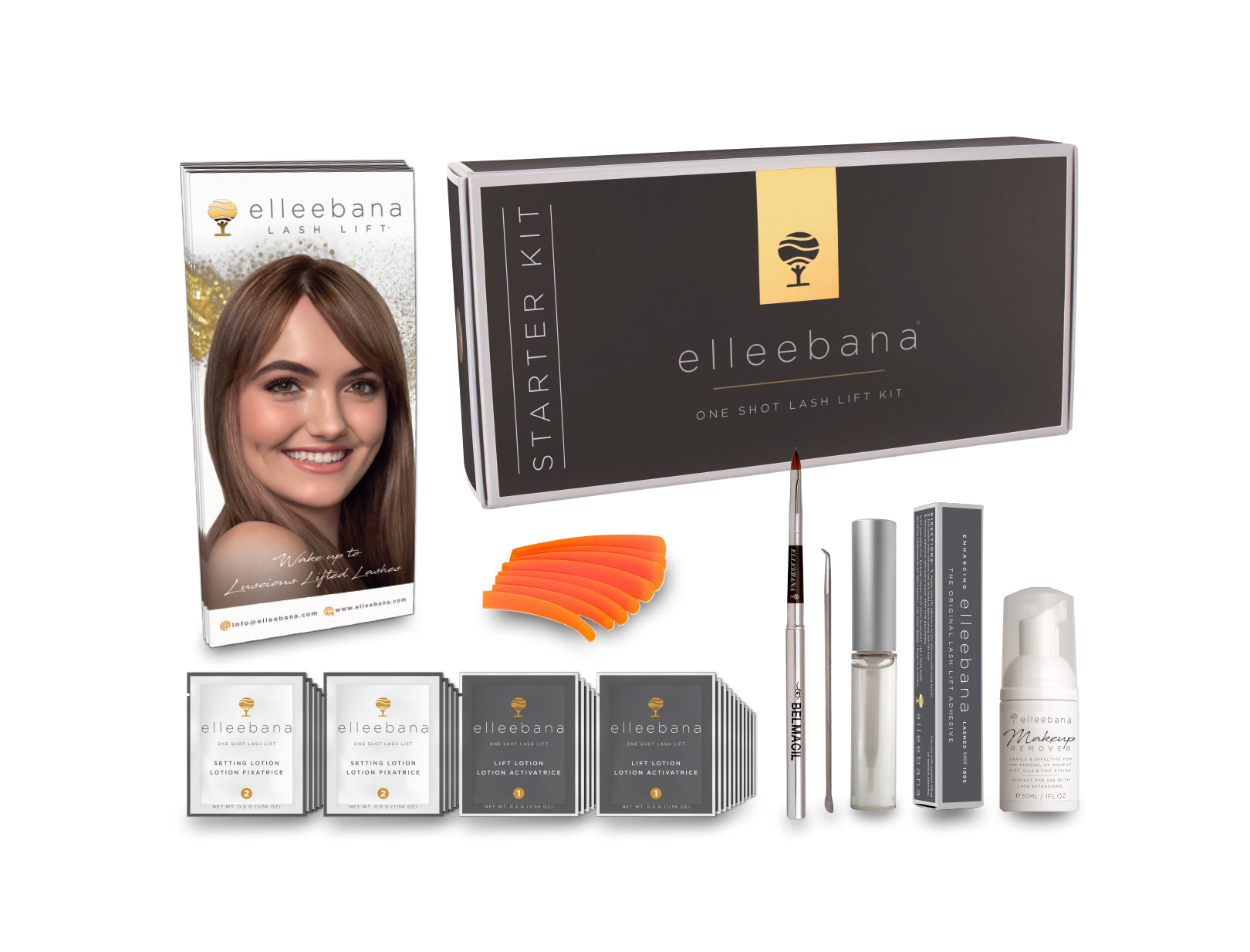 HANDS ON | One Shot Lash Lift Certification Course
HANDS ON | One Shot Lash Lift Certification Course
Course Overview:
ONE SHOT LASH LIFT CERTIFICATION
Elleebana's lash lift treatment is the hottest trend in the eyelash industry that allows you to offer your customers luscious lifting natural lashes that will last for weeks, all in the blink of an eye. This course arms you with the detailed concept of lash lifting as well as the hidden tips to mastering your technique to achieve the perfect lift every time. Our theory session commences with product knowledge and understanding of the delicate eye area that you are working with, contraindications and how to consult for this treatment.  The detailed explanation of the science of lash lifting is a key component to understanding the treatment and how to achieve optimal results.
You are guided through the cost and income potential of lash lifting to build your marketability. Our hand selected trainer will then demonstrate to you a lash lift in detail – we take our time walking through the treatment step by step and showcasing the common mistakes made and how to correct these errors to ensure your results are flawless and to build your confidence.
You will then work on a model under the careful guidance and instruction of our trainer paying close attention to the key elements of lash lifting. No longer can you expect a one day class with Elleebana as your course, knowledge retention and applying your new found skills will continue through your online component of this Elleebana 2020 Evolved training program.  The online component will include a case study submission of before and after images for assessment after your training date to further ensure you have been able to retain and apply your new found skills.
*Students will need to provide 2 Models On The Day Of Class (With the exception of our Florida Courses that have models included already).
*Your educator will confirm model arrival times via email within 24 hours of registration, typically afternoon/lunch for number 1 and early afternoon for number 2.
*Students will have a lunch break - your trainer will include details on this in their follow up email upon registration. 
COST INCLUDES:
1 Student Lash Lift Kit
1 Tube Re-Gen Next Gen Conditioning Treatment
1 Pack Micro Swabs
1 Tube Elleeplex Advanced Aftercare (clear mascara) 
1 Pack Elleebana Under Eye Pads
1 Pack Doe Foot Applicators 
Extensive Training Manual
Client After Care Handouts
1 Official Certificate upon submission of 5 case studies to be evaluated by your trainer. 
Access to digital promotional content, consent + indemnity forms
Lifetime Support from your trainer, the brand, and us!
***Lash Tint Not Included | Separate Purchase
After Purchase, our Trainer will contact you within 24 hours with information about your upcoming course selected. 
Please Note:
1. Hands On courses are allowed to be rescheduled, and up to 350$ may be refundable. 
2. We reserve the right to withhold issuing of a certificate until competency has been achieved through successful assessment.
TOPICS COVERED:
-Science of lash lifting,active ingredients, and the ingredient trends we are seeing

-Exposure to the various adhesives available

-Storage guidance and tips

-Eye and Eyelash anatomy and structure

-Business, room set up and cleanliness

-Client/technician wellbeing and self-care

-Procedure knowledge and detailed instructions

-Health, safety and sanitation – for your clients and for yourself

-Pre-procedure preparations and contra-indications

-Product information and usage and storage guides for the products

-Consultation, reactions and the importance of indemnity and legal requirements such as insurance

-Patch testing and tinting with Belmacil lash and brow tints

-Eye shapes and face considerations and key tips to craft the perfect lift for your client

-Reversed and relaxed treatments as well as lower lash care

-Homecare advise and recommended aftercare

-Taking a good before and after images

-Frequently asked questions and trainers tips/important notes

-Case Study submissions explained

-Competitions for building your business

-Criteria Checklist form
TRAINING FAQ's
What Can I Expect The Day Of My Hands On Course?
Your experience may vary depending on which course you've chosen, and which educator you are with.
A typical day starts with classroom theory, learning your new student manual and going through your kit/materials.
A demo from your instructor will be performed, and a break for lunch followed by two hands on models for yourself. Most courses are between 6-8 hours.
How Do Online Courses Work?
After purchasing, you will receive an email from your Certified Elleebana Trainer requesting a copy of your license, and all the details that pertain to the course you chose!
Your trainer will then activate your online portal which can take up to 36 hours.
Once its live, you will schedule a zoom session with your trainer where they will familiarize you will all of your course materials and modules.
Once you've completed the online course material you will need to submit 5 before/after case studies to your trainer for final approval, discussion and feedback! Your educator, as well as us here at Elleebana Lashes are always there for lifetime suppport upon course completion!
Can A Cosmetology/Esthetics Student Take A Course?
Yes!
We love to have students in our course classes! Start your career off right with the professional certifications needed to take you to the next level.
If you are a student and have not received your professional license, your trainer will hold your certificate until you are able to submit a copy of your license to them. Use the time to perfect your new craft while you await licensing :)
Do You Offer Group Training Rates?
YES!
We coordinate group training certifications for you and your staff at your location or ours. (Travel fees apply to those located outside of Chicagoland, Indianapolis Greater Area, and Washington DC Greater Area) Contact us via phone (text/call) or email with an inquiry - we are always ready to take on your business needs!
Deciding which certifications are right for you? We've got you covered and are happy to walk through the process with you :)
Are These Courses for CE Hours?
At ElleebanaLashes.com exlusively, we currently offer Continuing Education Credit Hours for those licensed in Illinois + Florida! Please request a CE Certificate from your educator if you require one.