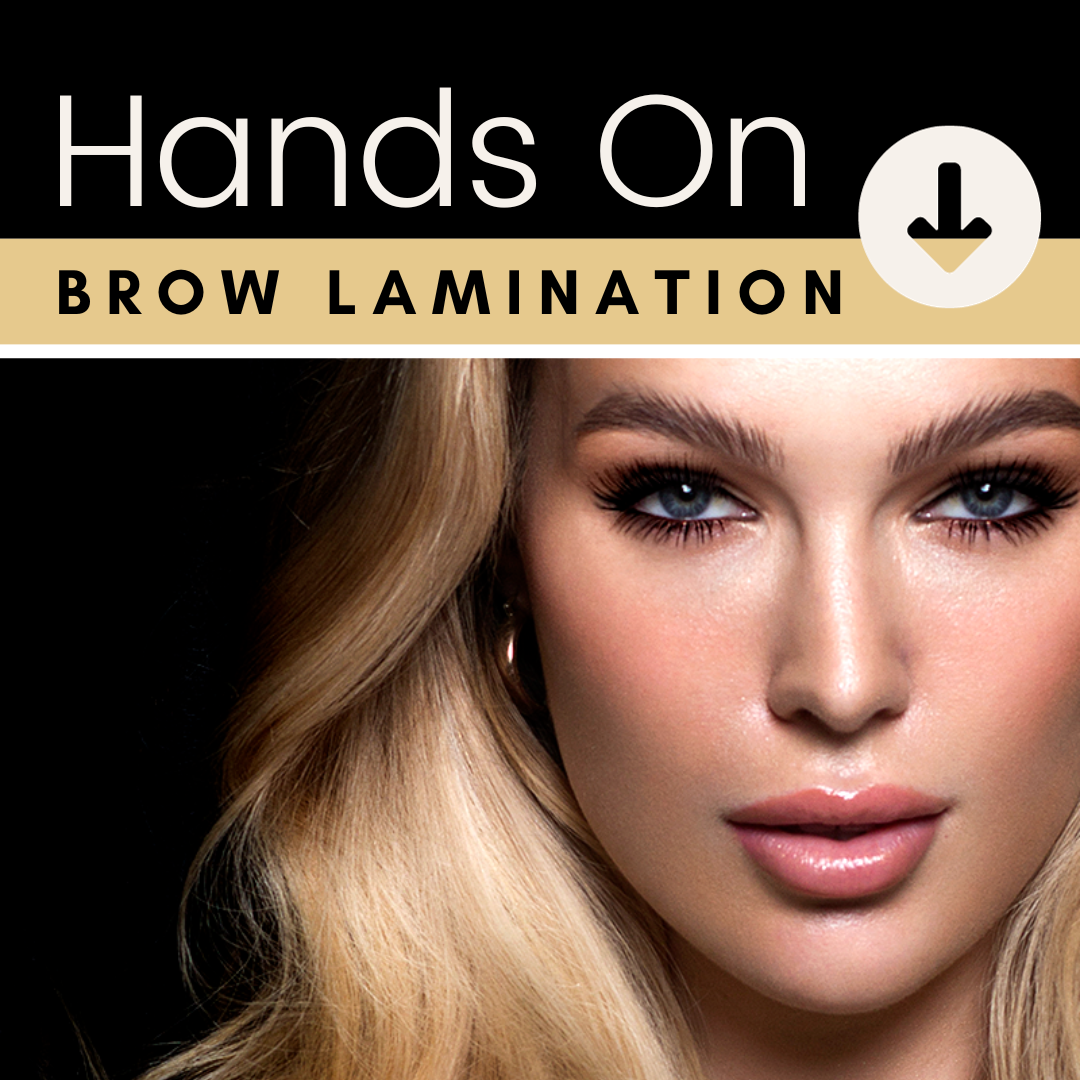 HANDS ON | Brow Lamination Certification Course
Brow Lamination is fast becoming one of the hottest trends in the beauty industry and Elleeplex Profusion is a highly sought after product line due to the quality and benefits of the product.  The brow lamination service gives the appearance of fuller eyebrows that are more easily shaped or corrected into brows that clients LOVE.

This course arms you with the detailed concept of brow lamination as well as the hidden tips to mastering your technique to achieve perfect results each and every time.
The detailed explanation of the science of brow lamination is a key component to understanding the treatment and how to achieve optimal results.  You are guided through the cost and income potential of brow lamination to build your marketability.
Our hand-selected Certified Trainer will then assist you through your online course.
The online component continues with quiz questions for knowledge retention and then final submission of before, during, and after images for assessment to further ensure you have been able to retain and apply your newfound skills that your Certified Trainer has delivered to you one-on-one, through our online program.
Students will need to provide 2 Models On The Day Of Class (Your educator will confirm model arrival times, typically afternoon/lunch for number 1 and early afternoon for number 2). Students will have a lunch break and are welcome to leave the building to grab a bite or bring their own! 
** Classes are SMALL! No More Than 2 Students At A Time! :) **
Topics We Cover:
• Science of brow lamination, active ingredients and the ingredient trends we are seeing
• Adhesives and myth busting tips on adhesives used during the brow lamination service
• Storage guidance and tips
• Hair Structure and Skin Anatomy
• Lamination and hair removal
• Lamination and coloring hair
• Health, safety and sanitation – for your clients and for yourself
• Cleaning your tools and equipment
• Pre-procedure preparations and contraindications
• Product information and usage and storage guides for the products
• Consultation, reactions and the importance of indemnity and legal requirements such as insurance
• Patch testing for lamination and tinting with Elleeplex Profusion lash and brow tinting range
• Understanding eyebrow shapes
• Dissection of the brow
• Face shape and brow design
• Cost of treatment and income potential
• Brow Lamination process and step-by-step procedure
• ReGEN hydration phase incorporation into your Brow Lamination services
• Brow tinting procedure with the Elleeplex Profusion system
• Aftercare advice and Homecare products
• Frequently asked questions / important notes
• How to take good before/after images
• Case study submissions explained
Course Materials Included:
• Elleeplex Profusion Lash and Brow Lamination Starter Kit – all items used to perform both services with over 15 applications per kit
• Elleeplex Brow Lamination Manual
• Doe Foot Applicators
• Elleebana White Brow Henna Pencil
• Precision Brow Light Ash Brown Pencil
• Precision Brow Deep Warm Brown Pencil
• Precision Brow Dark Ash Brown Pencil
• Mascara Wands
• Elleebana Wonder-Wands
• Elleeplex Advanced Aftercare
• Certificate upon completion of successful submission of case studies
• Elleebana Under Eye Pads + Micro Swabs Package

Your Course materials will be shipped to the location before the date of class. After selecting your date and purchasing your course you will receive an email from your Educator within 24 hours with further information and day of details!
Please Note:
1. Online courses are non-refundable. Hands On courses are allowed to be rescheduled, and up to 350$ may be refundable. 
2. We reserve the right to withhold issuing of a certificate until competency has been achieved through successful assessment.
HANDS ON | Brow Lamination Certification Course